Tucked into the laid-back pastel paradise known as Disney's Old Key West Resort is a gem of a dining spot, Olivia's. Caribbean cool atmosphere, thoughtful entrees, and service with a "welcome home" smile seems to be the golden rule at this often overlooked restaurant. Within feet of a boat platform that services the popular Downtown Disney area it's more convenient to travel to Olivia's than some may assume; take a resort bus from any Disney park or spend the afternoon shopping in Downtown Disney before hopping on a boat for a relaxing ride to Old Key West.
Olivia's offers indoor seating in an authentic 'Conch Republic' style dining room with tile floors, nautical decor, and kitschy details to add to its charm. For the true Key West experience, enjoy a meal al fresco on the patio overlooking the scenic boat dock. Olivia's, and its friendly staff of servers, specialize in making you feel "at home." For guests who visit often they may even remember your name & it's not uncommon for guests to request servers they were impressed with on previous trips. Make sure to say hello to John; he's an Olivia's staple & as sweet as honey straight from the hive!
Olivia's wouldn't be a gem if they didn't have great food, and they do! Open for lunch and dinner, some of the best entrees are the specials they offer which change intermittently; the fried chicken breast & Olivia's meatloaf are a couple of the best. Some other highly rated favorites are conch fritters, crab cakes, conch chowder, the grilled pork chop, and Mahi Mahi. Desserts at Olivia's naturally include a Key Lime tart, as well as several other cakes & sundaes. I recently dined at Olivia's with a real Key West native who wasn't totally impressed with their Key Lime; if you're a fan, give it a try & see how it rates for you. The outside of the tart is a light graham cracker consistency with a sweet & dense Key Lime filling.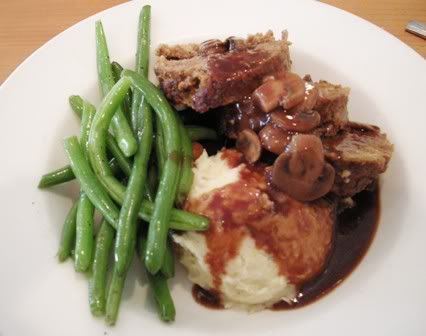 Even when my husband and I aren't staying at Disney's Old Key West Resort we make a point to have dinner at Olivia's almost every trip we make to Walt Disney World. During busy periods it's not uncommon to be able to do a "walk up" at the restaurant without an Advanced Dining Reservation, although -as with any Walt Disney World restaurant- an ADR is recommended. Olivia's does participate in the Disney Dining Plan and is considered a table service restaurant, using one credit per person on the dining plan.